Streamline your equipment rental checkout & POS experience
Upgrade your rental business with Quipli's seamless checkout software and integrated POS system, all in one easy-to-use platform.
Book a Demo
Don't let an inefficient POS system stand in the way of your rental success
Your customers are increasingly used to seamless online ordering across their lives – Amazon, food services, and more. The last thing you want is for your customers' in-store experience to be slow, time-consuming, and difficult. Quipli helps make ordering in-store just as delightful as online.
Quipli provides a one-stop shop software solution for tracking and managing your entire rental business from equipment reservation to pickup to return.
How Quipli will simplify your checkout and POS experience
By integrating payment processing, inventory, and reservations, Quipli simplifies the equipment rental process for you and your customers. Save countless hours, stay organized, and keep your rental business running smoothly.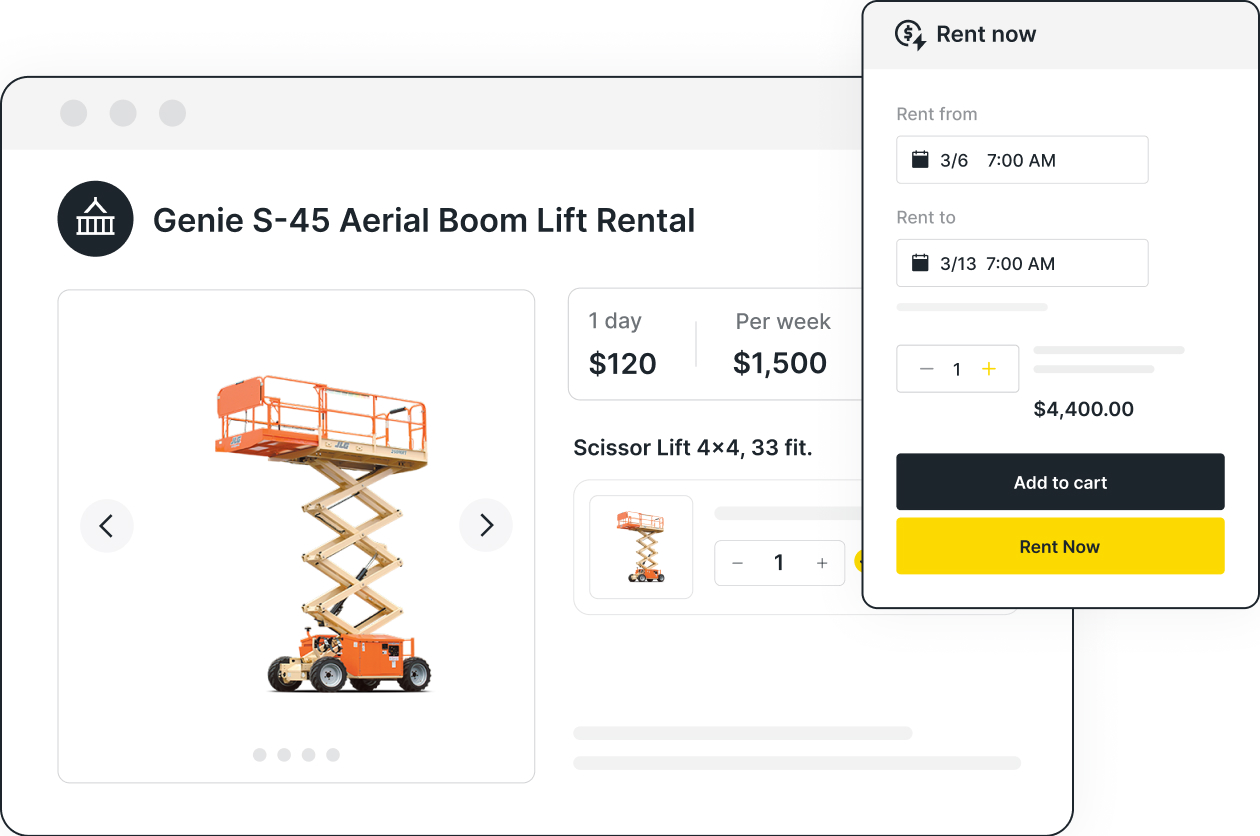 Full Management For Renters
How it works
Customer books on your website
Your customer can easily select what time period they need your equipment. If your equipment is already booked, your equipment is no longer bookable. Double-booking will be a thing of the past.
All information is added online
Renters will add their contact information, drivers license, and proof of insurance – saving your in-store employees time, preventing potential errors, and improving security.
Business is notified of order - needs to approve
Quipli will alert you of the latest order for your final review. One click and the order is good to go.
Customer drop off
Drop off is a breeze, leaving your employees more time to engage with customers, inspect equipment, and ensure no damage as done.
Customer pickup
All your customer needs to do is provide their order ID or name, and payment information and they are ready to go.
QR code scan
Using QR codes, simply scan the order's equipment. All of your equipment is assigned a unit number in Quipli, so that you always know where your equipment is.
Advanced rental features that make your rental business stand out
Omnichannel selling

Provide seamless shopping experiences for every customer both in store and online

Payments

Contactless payments supported

Hardware

Build a complete Point of Sale with Stripe Terminal's supported hardware

Built-in checkout

Streamline checkout to make running your rental business easier than ever

Customer profiles

Save contact information, add notes, and learn more about their shopping habits for personalized service every time

Digital invoices and receipts

Go paperless — send invoices and receipts directly to your customer's emails
Frequently asked questions
A POS (point of sale) is used to process transactions for your customers. A POS could be a cash register, but the modern take has moved to a digital device that connects every transaction digitally allowing for automated tracking and accounting.
Trusted by equipment rental leaders across the US and Canada, big and small.
We ran trials with multiple software vendors side-by-side for several months, and there was no comparison to Quipli's pace of development and customer support. Quipli listens to our needs regularly and shows an excitement to develop requested features. The crew at Quipli has made Arapahoe Rental feel like a partnership and not just another customer.
Quipli is a very easy team to work with and a very rare type of business that really works with you to help you succeed and set up the platform. If you like having options on how your platform works and like to have things customized without having options hidden from you, this is the platform to go with." Chose Quipli after comparing it to Booqable, EZRentOut, and Rentle (according to Capterra).
Top notch people. Their customer service is hands down the best. Software is easy to use, and user friendly. Easy to navigate and make adjustments to fit your business. They are constantly adding new features and best of all - they listen to customer feedback for what they do next.
My overall experience has been amazing. I am able to accept orders 24/7. I love that it's cloud based. This allows us to accept orders on the fly.
We use Quipli for our small, family owned equipment rental business. Through Quipli we are able to enter, track, and rent equipment to customers with ease. The Quipli team is also phenomenal to work with! If it is a big issue they will call or set up one-on-one Zoom meeting to discuss a solution to the problem!
Very easy page to navigate for the end user. Customer service is top notch with attention given to the specific needs of my company. QUIPLI is the one stop shop for our online rental needs from inception, design and ongoing maintenance.
I didn't expect a response to a non-emergent question over the weekend but the response was quick and gave clear instructions on how to fix my concern. Love working with the Quipli team!
The fast response is much appreciated, and even better when they take it a step further and help find a solution :)
Annika is simply put an asset of unseen potential that I am blessed to have on my support team. There are no words for being able to work with someone who makes you feel like you can just sit back and relax because she has got it covered. 👍
Court has been amazing to work with and help me through my start up growing pains. Thanks.
Renting equipment is about to get a whole lot easier
I. Answer a few quick questions on your business. It takes 2 minutes, tops.

II. Our team will reach out immediately to take you through a demo of Quipli.

III. Once you're up and running with Quipli you'll wonder how you ever managed without it.
Book a Demo