Master rental operations using Quipli's seamless booking software
Simplify your scheduling, inventory, and reservations.
Book a Demo
Tired of juggling spreadsheets and manual inventory management?
There's no need for spreadsheet scheduling management anymore. Quipli's automated scheduling software connects product availability with your e-commerce transactions, so your customers will only be able to book what is available.
Worry-free rental management
Quipli unifies your rental business on a single platform, seamlessly integrating product pricing, availability, inventory calendar, and scheduling. Our fully-integrated inventory system streamlines the entire process of booking, renting, and returning equipment, eliminating worries of overbooking or manual inventory upkeep.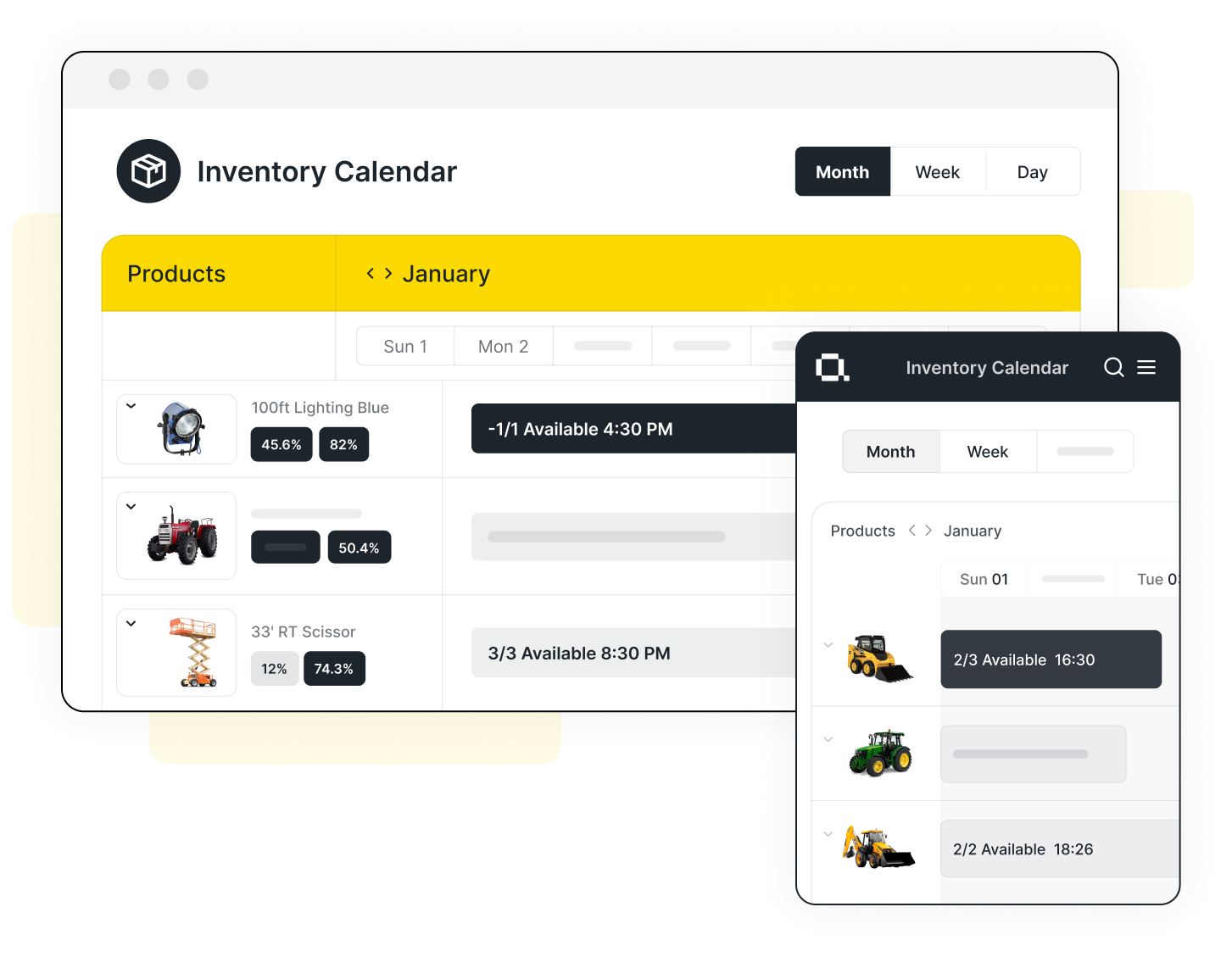 Prevent double-booking with real-time product availability

Gain complete oversight of your fleet with the inventory calendar

Simplify multi-location management, eliminating spreadsheet chaos

Integrate inventory with Point of Sale for seamless tracking

Leverage reporting and utilization data to maximize profitability
Comprehensive tools for complete visibility and control
Product availability integration
Quipli website builder pulls your product availability directly into your inventory - automatically preventing double-booking or scheduling equipment when it's already in use.
Inventory calendar
With your inventory calendar, you can view by a calendar perspective what products are available and when they will be returned by both a product and category level. This allows you to have complete oversight into the movement of your products from inventory to customer.
Multi-location management
Quipli supports multi-location businesses with different stock inventories. What may have been a mountain of Excel sheets is now fully-integrated into the rest of your business.
Reporting and utilization data
Improve your profitability with Quipli's inventory reporting. Quipli helps you understand what products are your best rentals, so that you can stock up on what products are in the highest demand.
POS
With Quipli's fully-integrated software, your inventory is directly connected to your Point of Sale. This allows you the comfort of knowing that double-booking will never be an issue, since as soon as your product is booked and leaves the store, your inventory will reflect this.
Frequently asked questions
Yes, Quipli's booking and scheduling system accommodates a wide range of rental categories and durations, providing flexibility for your business.
Trusted by equipment rental leaders across the US and Canada, big and small.
We ran trials with multiple software vendors side-by-side for several months, and there was no comparison to Quipli's pace of development and customer support. Quipli listens to our needs regularly and shows an excitement to develop requested features. The crew at Quipli has made Arapahoe Rental feel like a partnership and not just another customer.
Quipli is a very easy team to work with and a very rare type of business that really works with you to help you succeed and set up the platform. If you like having options on how your platform works and like to have things customized without having options hidden from you, this is the platform to go with." Chose Quipli after comparing it to Booqable, EZRentOut, and Rentle (according to Capterra).
Top notch people. Their customer service is hands down the best. Software is easy to use, and user friendly. Easy to navigate and make adjustments to fit your business. They are constantly adding new features and best of all - they listen to customer feedback for what they do next.
My overall experience has been amazing. I am able to accept orders 24/7. I love that it's cloud based. This allows us to accept orders on the fly.
We use Quipli for our small, family owned equipment rental business. Through Quipli we are able to enter, track, and rent equipment to customers with ease. The Quipli team is also phenomenal to work with! If it is a big issue they will call or set up one-on-one Zoom meeting to discuss a solution to the problem!
Very easy page to navigate for the end user. Customer service is top notch with attention given to the specific needs of my company. QUIPLI is the one stop shop for our online rental needs from inception, design and ongoing maintenance.
I didn't expect a response to a non-emergent question over the weekend but the response was quick and gave clear instructions on how to fix my concern. Love working with the Quipli team!
The fast response is much appreciated, and even better when they take it a step further and help find a solution :)
Annika is simply put an asset of unseen potential that I am blessed to have on my support team. There are no words for being able to work with someone who makes you feel like you can just sit back and relax because she has got it covered. 👍
Court has been amazing to work with and help me through my start up growing pains. Thanks.
Renting equipment is about to get a whole lot easier
I. Answer a few quick questions on your business. It takes 2 minutes, tops.

II. Our team will reach out immediately to take you through a demo of Quipli.

III. Once you're up and running with Quipli you'll wonder how you ever managed without it.
Book a Demo