Automate invoicing, payments, and billing with Quipli
Quipli simplifies and streamlines your payment and billing processes, making it easy to collect payments online.
Book a Demo
How do Quipli's invoicing, payments, and billing features work?
A complete suite, from the initial invoice to getting paid
Quipli provides you with a suite of detailed, easy-to-use features for managing every aspect of customer payments and billing for your rental business. Our app integrates seamlessly with Quickbooks Online and Stripe, sending invoices and payments automatically to keep your finance team up to date.
Transaction reporting, for full visibility -- and peace of mind.
You can create detailed transaction reports, manage customer payment information and data, generate reports for individual customers' transaction histories, and more.
Seamlessly integrated cycle billing functionality
Manage long-term rentals with automatic, cycle billing for open ended invoicing. Never miss a payment with integrated cycle billing.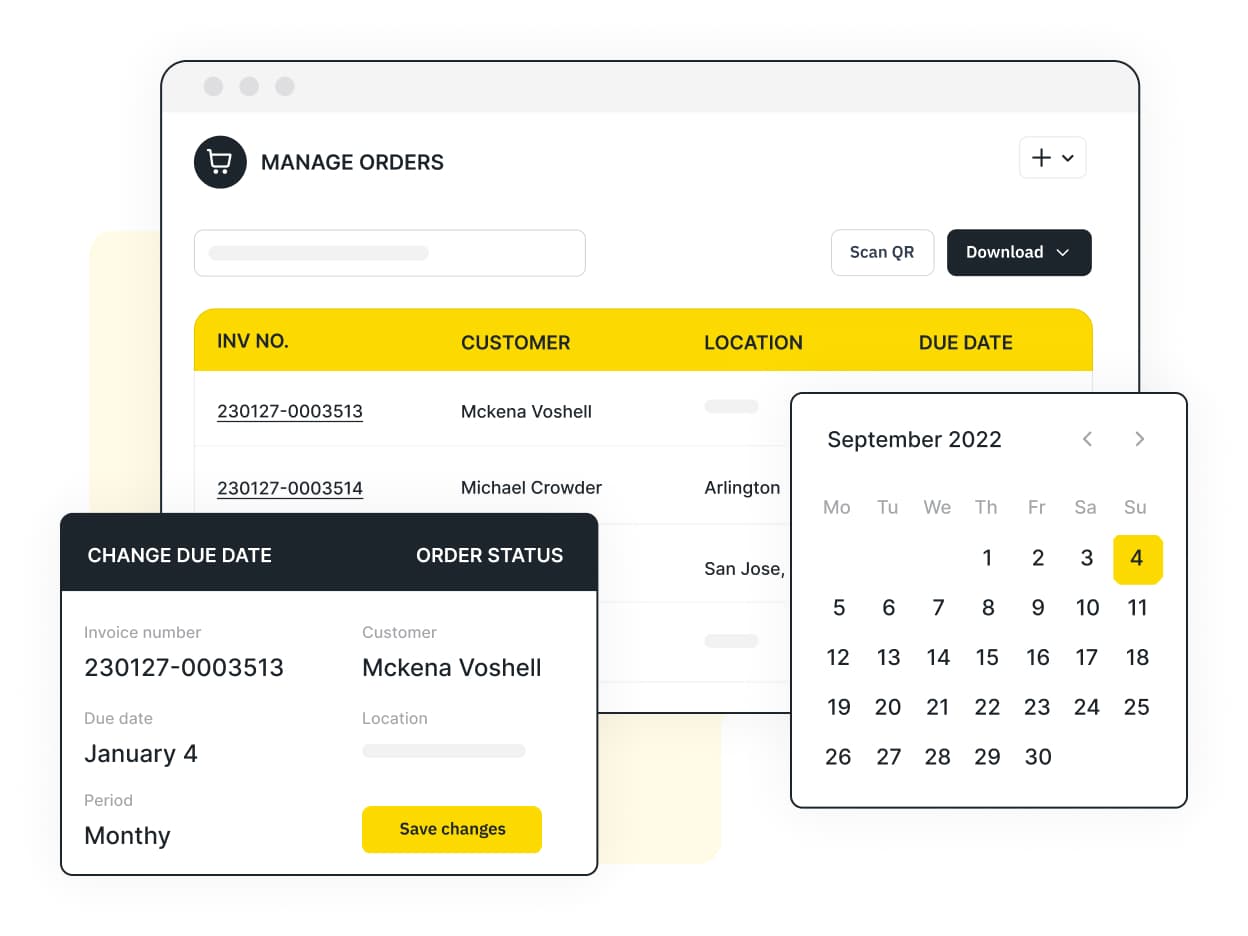 Invoice mastery unleashed
Streamline invoicing, payments, and billing to grow your rental business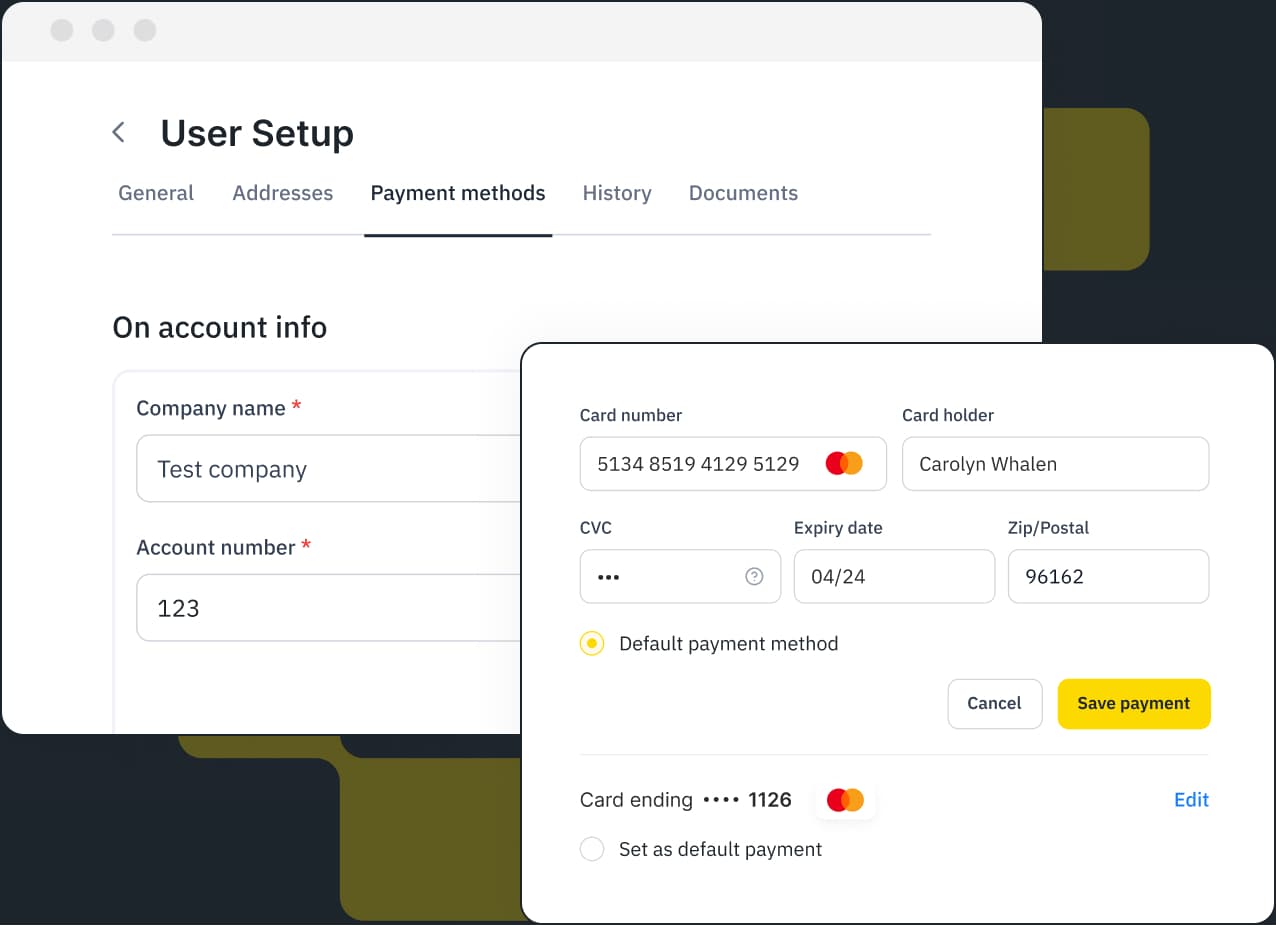 Seamless integration

Quipli integrates seamlessly with Quickbooks Online, sending all invoices directly to your finance team

Get your insights

View detailed customer payment data by day, week, or month

Don't bother with refunds

Issue refunds quickly and easily, either in full or in split paymentsinance team

Set up your customers

Login as any customer via the admin dashboard to add payment methods, see previous orders, manage partial payments, and view detailed payment reports

Invoices in no time

Create customer invoices in seconds
Simplify your rental business finances with powerful QuickBooks Online integration feature
Integrate Quipli's payment and billing features seamlessly with Quickbooks Online.
Quipli features a robust Quickbooks integration, sending all of your invoices, bills, and other important financial documentation automatically to Quickbooks Online to keep your accounting and finance teams in the loop.
Reliable payments for your customers and business.
Quipli has partnered with Stripe so that you can be assured that you will not experience any connection issues between your rental software and payment processing.
View comprehensive transaction reports and export them to Excel spreadsheets.
In Quipli's interface, you can pull up comprehensive transaction reports, with each transaction displayed as its own line item. You'll be able to easily see each order's current status, as well as filter orders into Pending, Approved, Canceled, and Quoted categories.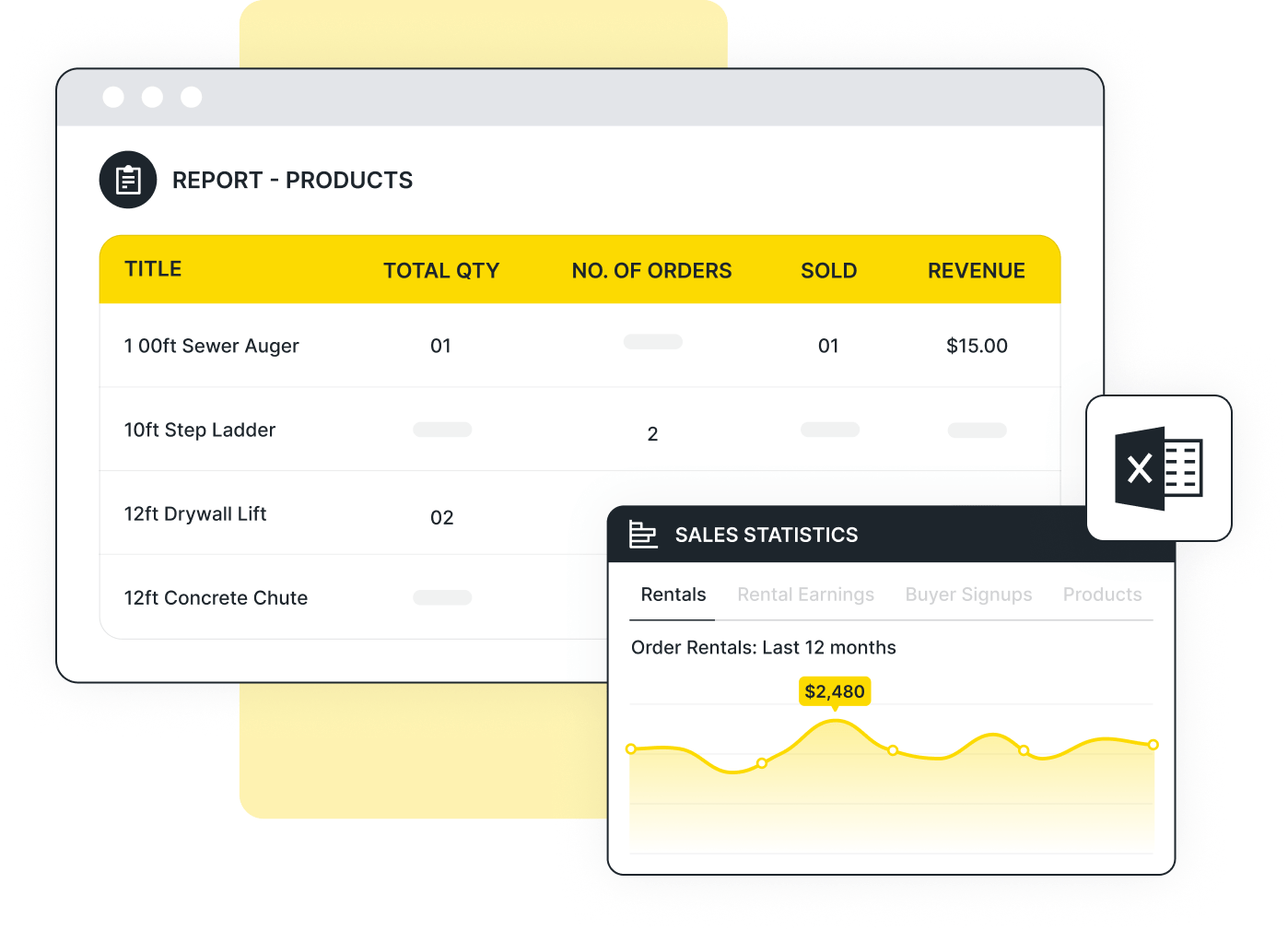 Your customers can view charge reports by day or by week.
Quipli's customer interface lets users view and close out orders on a daily or weekly basis, and easily view their order status at a glance.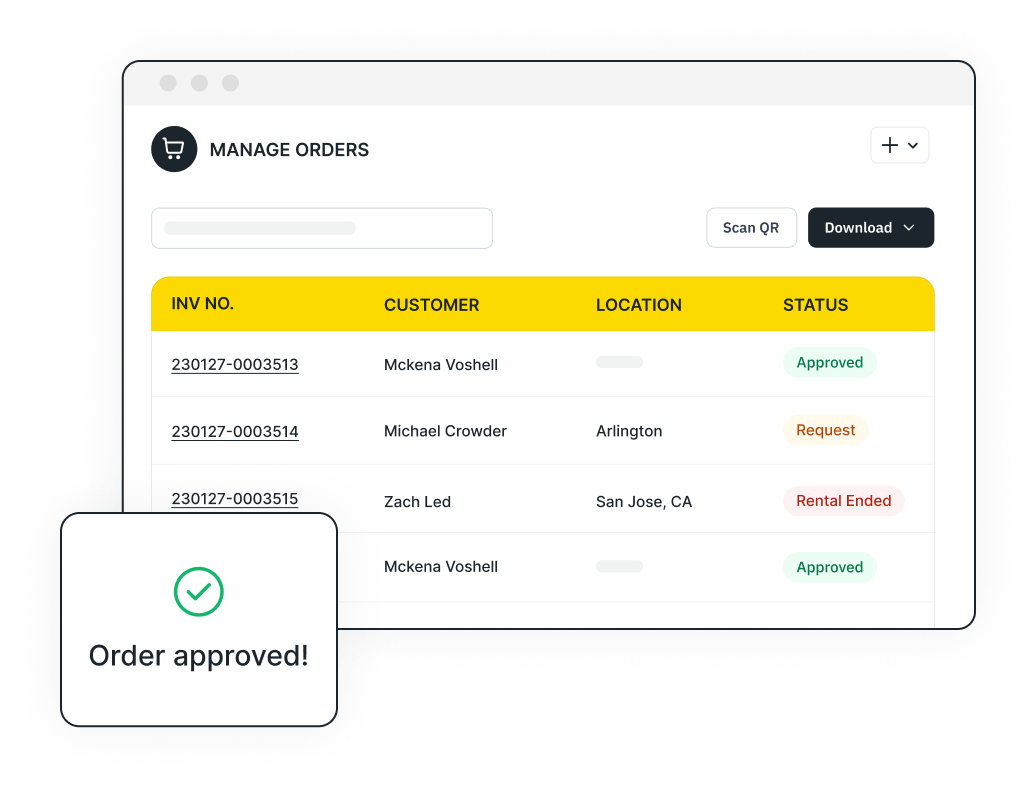 Create customer order invoices automatically.
You can automatically generate detailed customer invoices for each order that they place.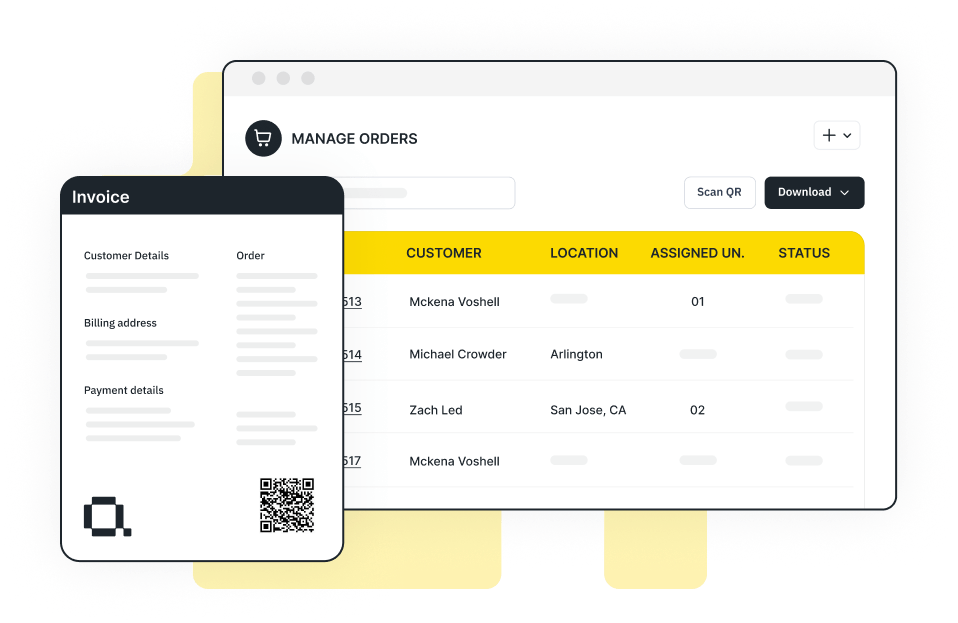 Issue refunds quickly and easily.
Quipli makes it simple to issue a refund to a customer, including for orders that were split up into partial payments.
Provide your customers with a comprehensive, easy-to-use interface for viewing and managing their orders and payments.
When your customers log in with Quipli on your website, they'll be able to easily manage their billing methods, payments, and their daily order totals. For different orders, they can easily switch between different payment methods that they've added.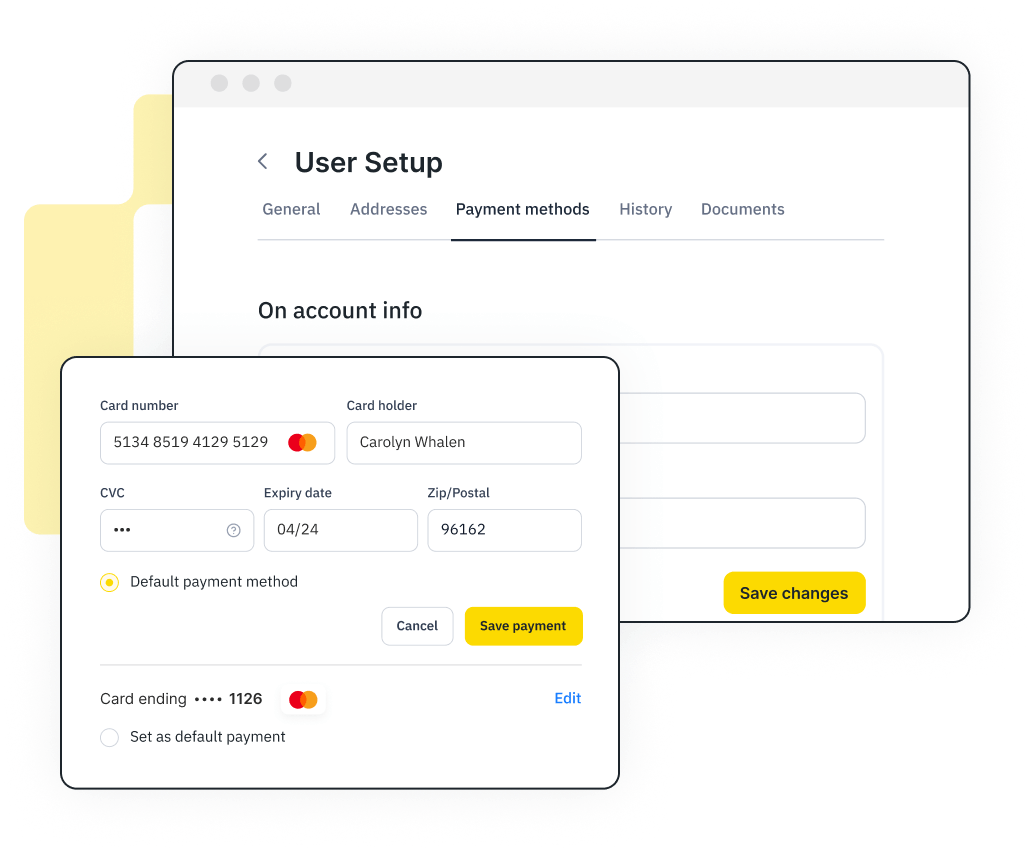 Frequently asked questions
Yes. Quipli is designed to integrate seamlessly with Quickbooks Online, automatically sending payment information, invoices, and other important information to your finance and accounting teams.
Learn more about Quipli's Quickbooks integration.
Trusted by equipment rental leaders across the US and Canada, big and small.
We ran trials with multiple software vendors side-by-side for several months, and there was no comparison to Quipli's pace of development and customer support. Quipli listens to our needs regularly and shows an excitement to develop requested features. The crew at Quipli has made Arapahoe Rental feel like a partnership and not just another customer.
Quipli is a very easy team to work with and a very rare type of business that really works with you to help you succeed and set up the platform. If you like having options on how your platform works and like to have things customized without having options hidden from you, this is the platform to go with." Chose Quipli after comparing it to Booqable, EZRentOut, and Rentle (according to Capterra).
Top notch people. Their customer service is hands down the best. Software is easy to use, and user friendly. Easy to navigate and make adjustments to fit your business. They are constantly adding new features and best of all - they listen to customer feedback for what they do next.
My overall experience has been amazing. I am able to accept orders 24/7. I love that it's cloud based. This allows us to accept orders on the fly.
We use Quipli for our small, family owned equipment rental business. Through Quipli we are able to enter, track, and rent equipment to customers with ease. The Quipli team is also phenomenal to work with! If it is a big issue they will call or set up one-on-one Zoom meeting to discuss a solution to the problem!
Very easy page to navigate for the end user. Customer service is top notch with attention given to the specific needs of my company. QUIPLI is the one stop shop for our online rental needs from inception, design and ongoing maintenance.
I didn't expect a response to a non-emergent question over the weekend but the response was quick and gave clear instructions on how to fix my concern. Love working with the Quipli team!
The fast response is much appreciated, and even better when they take it a step further and help find a solution :)
Annika is simply put an asset of unseen potential that I am blessed to have on my support team. There are no words for being able to work with someone who makes you feel like you can just sit back and relax because she has got it covered. 👍
Court has been amazing to work with and help me through my start up growing pains. Thanks.